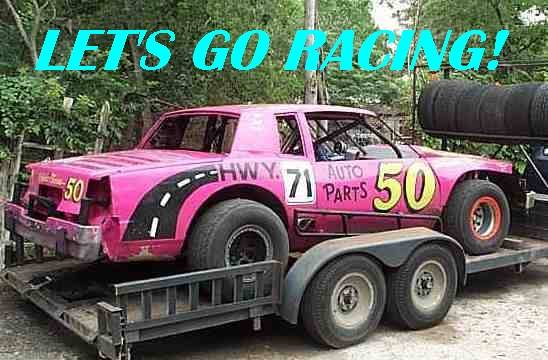 Now retired! I won a track championship in my class in 2008, raced a few times in 2009 and recently started the process of giving everything away to a great family of racers I know from San Antonio. So no updates here! I miss it, but don't miss coming home at 3:00 AM with a wrecked car that I had thrashed all week to get on the track from mayhem the previous week!
UPDATE, UPDATE!  2-8-2023!  OUT OF RETIREMENT AT AGE 76!  Just finished first season in "Sports Compact" FWD 4 cyl, sedan class.  Very slow at first, finishing one lap down.  Mid pack with two 2nd place finishes by end of season!
I (Don Lewis) started driving on my 50th birthday in 1996. Being a not very moderate person and having quit a variety of highly addictive and unhealthy vices, stock car racing was a perfect replacement for them all! I was fortunate enough to have six feature wins during my first year and have never looked back. Some seasons have been better than others in terms of wins, but I have accumulated a few trophies over the years. I am highly fortunate to have Jon Neilson as an invaluable pit crew member, engine builder, bodyman, welder, fabricator, etc. etc. Jon has taken more than one checkered flag. Jon, originally from San Diego, Ca. is a chemist by day.
My first car was 1979 Buick Park Avenue that had previously been a bomber car driven on asphalt at Longhorn Speedway here in Austin. Since I had just turned 50 I gave it the #50. I did minor rework on it to make the suspension suitable for dirt and fitted it with the proper dirt wheels and tires. The motor blew the first night I had it out in practice, but I was fortunate enough to get a "grandpa's car" good used motor from a 72 Cutlass from my sponsor, Joey Whitehead at Hiway 71 Auto Salvage. The used Olds 350 engine performed well that season. I ran the car a second year by which time it was pretty well battered and used up.
The second car was a 77 Cutlass–shell courtesy of Joey. This car was shorter and lighter than the previous, but still was one of the heaviest cars on the track wherever I went. Again it was Oldsmobile powered, but this time with a 403 engine. At the end of two years it was pretty well used up, especially after the San Antonio flagman put it hard into the wall during an official's race.
My next car finished one season in good shape and needs only minor maintenance and some enhancements for next year. In keeping with the trend of ever-escalating competitiveness, it was shorter with a 108″ wheelbase. It was a "metric chassis" Pontiac Gran Prix, again with a 403 Oldsmobile engine. The transmission was a THD200 automatic that I have been told for years is much too weak to hold up to racing stress but it did so without any problem. This Car has been sitting without a motor But I plan to put it back on the track in 2008.
The latest two cars were built to IMCA "Stock" rules. Lately we have been racing the #51 pink car primarily.
I started out racing at Texas Dirt Speedway in San Antonio, but unfortunately the track has had all sorts of management problems to the point where they had no spectators, no drivers and no payout whatsoever and are now defunct.
I made Shady Oaks Speedway in Goliad my home track for the year 2000 and 2001 season, and the way the track was managed was well worth the excessive travel distance. The #50 purestock made a very close second in season points there but without ever winning a feature in the year 2000! However, that track is now defunct.
Other area tracks that I have raced at are Texas Thunder Speedway in Killeen Waco-Bellmeade Raceway outside of Waco, Hill Country Raceway near Kerrville and I-37 Speedway south of San Antonio. Texas Thunder is always packed and puts on a hell of a show!
Most invaluable was Jon Neilson. I am trying to come up with a way to keep him from going back to California for graduate school! My friend Louis Torfason made it sometimes but all-too-often out of town on the weekends.  Sad to say Torfason now deceased.  We miss him!  Various other friends and family make it on a sporadic basis. I am highly blessed to have, if not the biggest racing fan in the world, the most supportive, tolerant wife in the world–Elaine DiRico. My nephew, Elias Anderson, is the one who got me into all this fourteen years ago and he is a very talented racer himself–IMCA class. Another IMCA driver is Joey Whitehead. We try to help each other out all we can whenever we are at the same track. If I'm not racing on a particular weekend, then I will try to get my fix by helping one of them!